Teak veneer with stripes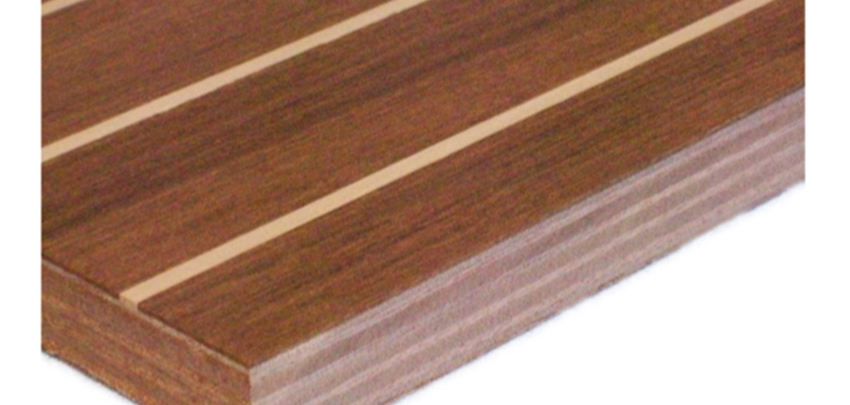 For the most demanding aesthetic applications, the above panels can be covered with teak veneer, even up to 25 mm thick. On request we also produce plywood with decorative surfaces with grooves in which special inserts (stripes) in stained wood, black or white or rubber edges are glued.
The timbers most frequently used by John BV for marine plywood are Okoumé, Khaya and Sapelli. Okoumé is a wood species with a resistance to biodeterioration suitable for the service and hazard classes in which marine plywood is normally employed. Khaya and Sapelli are African woods belonging to the mahogany group that have a nice decorative aspect and are characterized by durability class 3 of EN 350. Panels made with the faces in mahogany veneers and inner plies of Okoumé are also available. 
This type of plywood is made with selected veneers of adequate quality and lay-up. Generally face veneers are of surface appearance class II/III (complying with EN 635) while core veneers have glued edge joints.
The adhesive used for bonding marine plywood is a modified MUF system that satisfies the requirements for marine applications, while the bonding quality is checked according to EN 314 after a pre-treatment that simulates a long time exposure to weathering agents that the plywood must withstand in service. The best behaviour of the panels is reached when their edges are adequately protected during use.
The marine plywood produced for John BV is conforming to the standard BS 1088-1:2003 in line with the requirements of EN 13986.
Would you like more information or a quotation?
Do not hesitate to contact us.